Wedding Photographers Walpole MA
Couples come to me mostly because they like the images I classify as "moments". The incredible thing about a moment is it doesn't necessarily have to be a spontaneous one to be authentic. A real moment can take place in an engagement session and create a beautiful, authentic image.
This couple and I met at Bird Park in Walpole, MA on a gorgeous fall afternoon planning to catch the light. Planning paid off! We had an incredible opportunity to use this gorgeous space nearly uninterrupted. Finding patches of light as the sun peeked behind the trees was incredibly fun for me - and we chatted the whole time which made the afternoon extra sweet. I always take the opportunity of the engagement session to get to know my couples a little more. By the time we meet on the wedding day they know I've go their backs on everything that's important to them!
Back to the image...what makes this one is theirs stance together and the closeness of their faces. It does no look posed (though I guided them) but looks natural. The sun flair in the background is also real (I do not photoshop in sun flair..ick). The contrast of this image gives a gorgeous range of tones that printed beautifully. Here is another image from the same series with a very different feel (also a favorite!)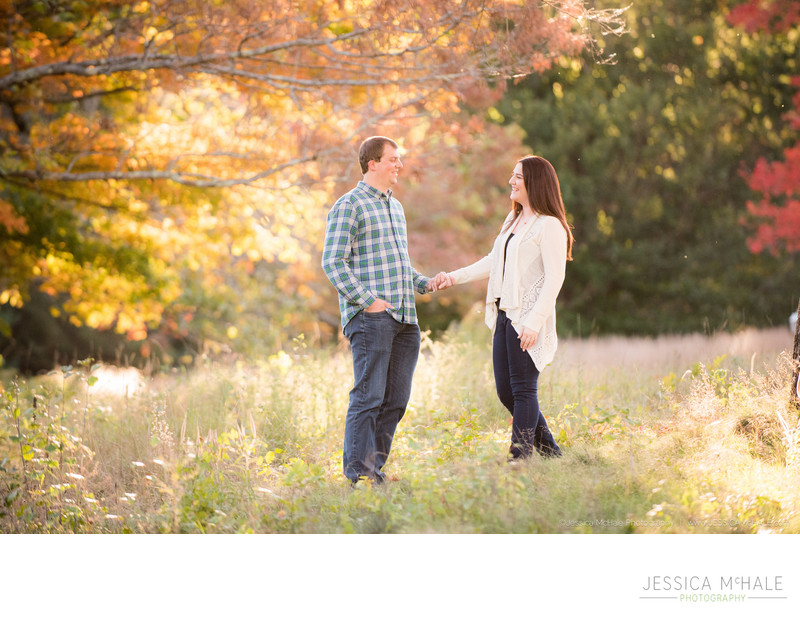 Bird Park is vast and hold so many photographic opportunities. There are other engagement sessions and wedding images in my portfolio showing this gorgeous space... not to mention the dozens of images of families and children from this same space.

For engagement sessions, I love the space because if offers something for everyone, from manicured grounds to more natural trails and even stone and wrought-iron backgrounds. As one of the experienced wedding photographers in Walpole MA I can help you select the perfect combination.
Location: Polly Lane, Walpole MA 02032.
All images and text ©2005-2023 Jessica McHale Photography.