2023
---
Family Photography Pricing
Just a little bit posed, mostly silly, and a completely frame-worthy collection of images, with pricing simplicity. All family photography session fees include Jessica's time on-location, individual editing of each chosen image, a password-protected online gallery, complete finished collection of digital negatives to add to your families archive, and two years of cloud storage. Photographic prints, archival prints, albums and other items are available a-la-carte after your gallery delivery.
Immediate Family Session
(and pets!) either in-home or on-location. These can be posed, completely unscripted, of a combination of both. up to 1 hour of time on-location, including everything listed above. $775

Newborn Session
in-home lifestyle. Babies 3mo. and younger, with siblings and parents of course! Includes additional editing for newborns (skin, scratches, etc) and an extended session time to allow for newborn needs. $995

Generations sessions
add in grandparents, cousins, and all of the combinations in your extended family. Many clients use this as a mini-session for each immediate family with the added bonus of heirloom group photographs. $1100
---
Please contact the studio for full details of each session length, and to discuss the best session type for your family!
---
Fall Mini-Sessions
A taste of a full family photography session - perfect for an annual update of your family photos and a fresh image for holiday cards. Sessions are 30 minutes and most often scheduled consecutively with other families at the same location. Offered only on select days in September-November. Images area ready within 2 weeks.
2023 Fall mini session pricing $525.
*early bird booking for client list $495. Check you email in August when the booking link goes live!
---
Please note the studio calendar is full for summer 2023 from June 20 through August 17. I begin booking my fall calendar in August each year and end family sessions around Thanksgiving to ensure clients have time to create prints for the holidays. These are guidelines of course - don't hesitate to reach out and ask about availability if you like my work!
Family Photography - FAQ
---
DO YOU HAVE A STUDIO?
I did until spring 2020. Though I loved having a studio to meet clients and display prints, I found that most clients were interested in what I specialize in - sessions in their home or chosen location. Thanks to an incredible client base my business is busy as ever with on-location work. I really enjoy traveling to public lands and private homes to capture families in the spaces they love to spend time in. I'm happy to suggest some of my favorite places if you need ideas!
HOW MUCH DO YOU DELIVER IN BLACK & WHITE?
I am sure you noticed that I absolutely love the feel of black and white images. I love that they convey emotion without distraction, and really accentuate gorgeous light and moments. Before your session we will talk about what the images are going to be used for, where they will be displayed and how, and create a balance of final images that works for you. All images delivered in black and white are also delivered in color, so you get both options for your families personal image library.
WHAT HAPPENS IN THE EVENT OF RAIN?
I know how much goes into planning a session for your family. If the weather doesn't cooperate, we will certainly reschedule. Your session payment will be transferred to the new date.
For family and mini sessions those will be called the morning of the session and you will have multiple options for rescheduling. Even newborn photography inside may be rescheduled if it is very gloomy outside. For generation sessions I prefer to schedule a rain date when you book because of the complexity of getting so many families together.
HOW FAR WILL YOU TRAVEL?
My coverage area for family and portrait sessions is everywhere in Rhode Island, eastern Connecticut, and eastern Massachusetts including Cape Cod. My base is in Newport RI so I'm pretty central to a lot of wonderful locations!
DO YOU HAVE LOCATION SUGGESTIONS?
We are so lucky here in New England to have an incredible variety of gorgeous parks and beaches. Photographically I lean towards locations with even light, clean backgrounds, interesting stonework or trees, striking lines (beaches!). I also love depth - paths, stone walls, etc. I am happy to make suggestions for your family based on my experience, though ideally the location is one you and your family are already familiar with.
WILL YOU WORK WITH MY SPECIAL NEEDS CHILD?
Absolutely. After volunteering with Autism Speaks for their annual fundraising event at Colt State Park, I ended up taking their boot camp class to increase my awareness and effectiveness in working with children on the spectrum.
DO YOU DO MINI-SESSIONS?
Yes! Mini-sessions are incredibly popular every fall. They happen September through early November. Preferred clients will get notification by email in early August with booking information.
WHAT THE HECK DOES CHAOS LOVED MEAN?
ChaosLoved, for many years, was the children and family division of JESSICA McHALE PHOTOGRAPHY. I was looking for a name that would encompass the crazy beautiful, sleepless, messy, joy-filled moments of having young children. I have three of my own and it's complete chaos! But we're always laughing, growing, and supporting each other.
The two divisions of my photography work held separate web addresses until early 2019 when they were placed under the same umbrella. I'm one person, one photographer, one artist capturing my client's lives. But it was hard to let this name that is so perfect go. So you'll still see it periodically on my branding. Life with kids is chaos. Chaos loved.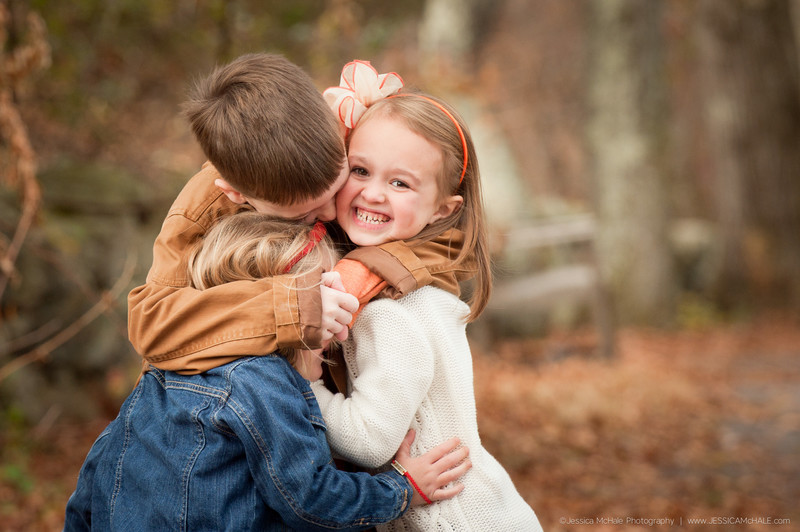 ---
Family photography is available in my current and previous hometowns and surrounding areas. With a home in Portsmouth Rhode Island, I photography families throughout Newport, Portsmouth, Middletown, Bristol, Barrington, North Kingston, and throughout Providence. Roots in Medfield, Massachusetts means making the drive to my favorite towns in MA is always a treat! Including Medfield, Dover, Sherborn, Newton, Natick, Framingham, Foxboro, Franklin, North Attleboro, Milton, Canton, Brighton and all over Boston including South Boston, Back Bay, and the financial district.
---
All images and text ©2005-2023 Jessica McHale Photography.