ORGANIZING AND SAFELY STORING YOUR PERSONAL PHOTO COLLECTION
The sheer number of images we all take of our families makes organizing family photos feels like an increasingly daunting task. Yet that image collection is one of the most valuable things in my possession. Our family adventures and daily growth are carefully photographed, with the intention of having a visual archive for us all to enjoy as the years pass.
Why, then, are they sitting on unorganized on an unlabeled, old hard drive? Because life is busy and time is limited and a million other things get in the way.
Thanks to social distancing looks like I have some extra time on my hands, and I am taking the opportunity to finally dig into this project! While we sticking close to home and taking stock of what matters, using some of that time to make precious memories permanent seems fitting.
There are lots of ways to go about organizing your photographs. Mine is just one - do what works for you! Here is my process for my own family photos, which is a simplified version of how I manage and store client photos.
1: Create a folder structure using what I've outlined here.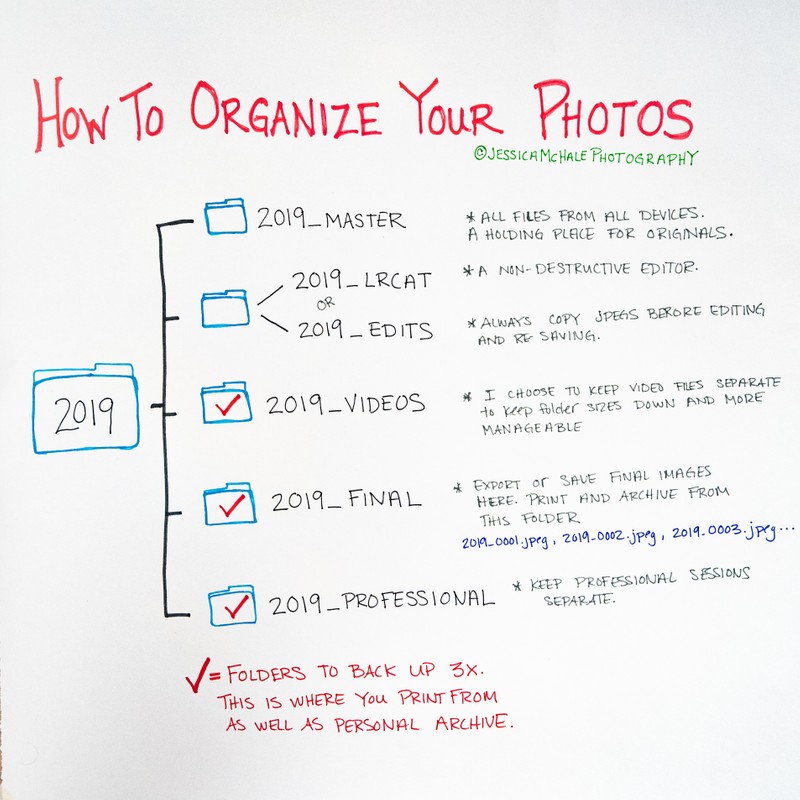 2: Put all original files in the 2019_master folder. Everything from everywhere! We have multiple Nikon cameras, a Sony mirrorless, an iphone, Samsung phone, and a goPro. Phew - it's a lot! Don't forget to create this folder at the beginning of the year so when friends/family send you photos you can pop them right in here. I do suggest keeping professional photos separate (see chart above). You will be re-naming everything you put in here and professional images should keep the names your photographer has given to them. This will make it much easier if you ever need to reach back out to them.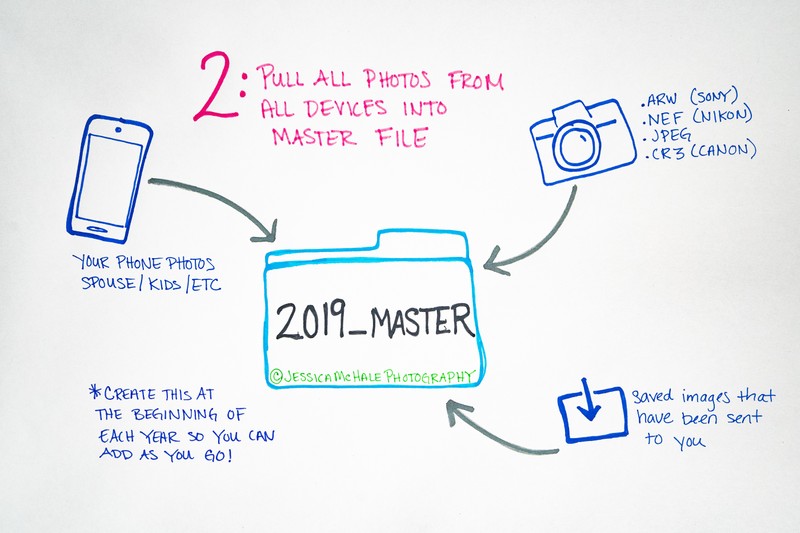 *Do not edit and re-save files in the master folder! Editing is a destructive process in most programs, meaning each time you save the image you are degrading the quality of the image. LRCAT stands for Lightroom Catalogue, which is a non-destructive process, should you choose to go that route.
**Note: make sure all of your cameras, going forward, have the correct date and time. This is important because you will be organizing by time stamp. Of course, phones do this automatically. But other digital cameras will may to be set. If you do not have the correct time stamp then your process will look different than mine below.
3: Pull the images from your master folder to the folder or program you choose to make edits. I use Adobe Lightroom, but there are lots of choices here. Your first step here should be to organize by date. File numbers will be all over the place, but chronological images are much more useful as you are working through hundreds of images.
This folder is where you can play with the images all you'd like, knowing there is an original file in your master folder should you decide that the crazy filter you applied to all (by accident!) isn't ideal, or of your re-naming goes awry and you end up with a mess.
Now for the tricky, time consuming part. Go through and delete all the photos you don't want. You know, the ones where you sent your friend photos from the dressing room to help you pick the best outfit. Screenshots, duplicates, etc. You are going to make a minimum of three back-ups of your final folder so keeping it as selective as you are comfortable makes a lot of sense in the long run. Yes, storage is relatively inexpensive now, but your time and patience are not. There's no need to sort through more photos than necessary when you are searching for baby photos for your kid's senior yearbook a decade from now. Edit, edit, edit. You'll thank me later.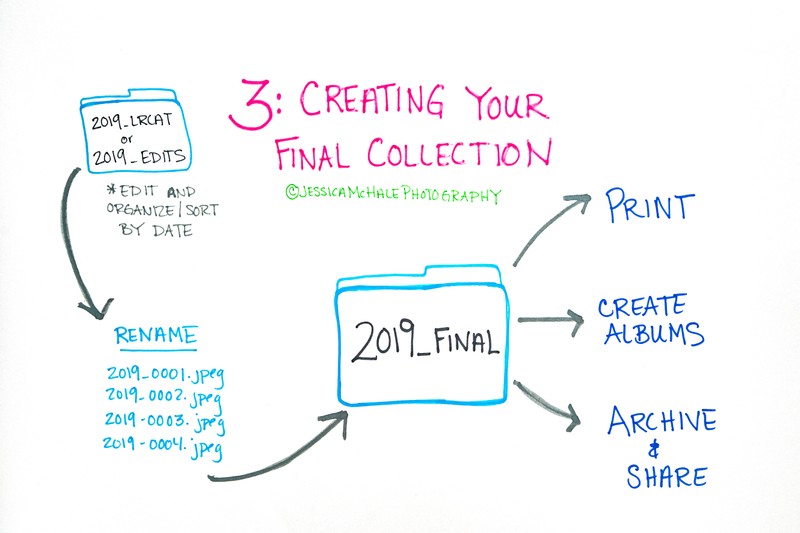 RENAME & SAFE TO YOUR FINAL FOLDER
I number all of my personal images using the year first. My thought is that, years from now, the year is going to be the most important piece of information the viewer will want. My naming structure uses my last name as well, simply because there is so much client work on my hard drives, but you can leave out the last name to shorten the file.
2019_0001.jpeg
2019_0002.jpeg
2019_0002.jpeg
2019_0004.jpeg
etc. (mine end up around 9000.jpeg each year)
Your 2019_final folder will be the one you will print from. It will also be the one to archive. Use the 3-2-1 rule:
3 Copies of your data
2 Sources of media (your computer, external hard drives, cloud, etc)
1 Copy offsite
You are protecting your images against data loss on an individual device, but also catastrophic loss like a flood or fire in your home. Make sure to update as the years go by and online companies change their policy or that hard drive has a cord that no longer plugs into anything (speaking from experience, here).
*I keep three copies of my year_final folders, and one of the original files. You may only want to keep the _final folder, which is fine. You don't need to keep and store the whole process if you don't have space or patience for that.
Now, the fun part! Upload that final folder to get prints made, albums created, and wall art. You and your family will now be able to find and enjoy all of the images you've created together!


Follow me on IG @JessicaMcHalePhotographer for information on printing and displaying your images.
All images and text ©2005-2023 Jessica McHale Photography.